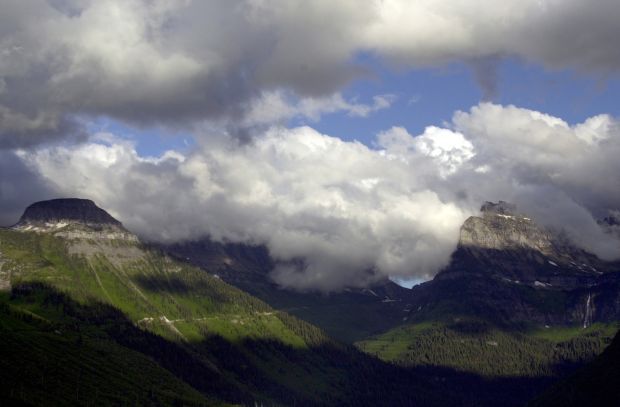 One million PLUS buckaroonies.
If this is a Jeopardy answer, the question is this:
"What does The Carlyle Group estimate the costs will be of defending itself in court should the city of Missoula file an eminent domain case in court?"
Kinda wordy. Sorry. And yes, Glacier National Park somehow plays into this. Photo editor Kurt Wilson took that picture.
Anyway, in the story, managing director Robert Dove offered written responses to questions through Carlyle spokesman Christopher Ullman.
I didn't include everything in the story, of course, but I wanted to share more of the responses here.
In addition to asking about Carlyle's ownership of Mountain Water Co. and the possibility the city will seek condemnation, I was curious to know if Carlyle's people had been introduced to Missoula and Montana icons.
In particular, I wondered if Dove and his people, if he brings them, had visited Glacier National Park and Charlie B's. The answer was no, but they'd done other cool things.
The list: Rafting the Alberton Gorge with Montana River Guides, skiing at Lost Trail, back country skiing at Lolo Pass, and hiking and running in the mountains.
That's not a bad list, but I still vote for Glacier. Wilson's caption says that of the 11 million nonresidents who visited Montana last year, 21 percent came specifically to visit Glacier National Park.
To get a little far afield from the primary topic, for every dollar the federal government spends in a national park, $10 goes back to local economies. (Do you think Park Cafe will still have the same menu? And further afield, but I'd like to know, and less about the pies than the huevos rancheros, to be honest.)
Back on point, according to Carlyle, the Park Water board has met in Missoula three times the last 12 months.
"We regularly spend several nights in Missoula and have eaten at a variety of local restaurants," Dove said.
I also was curious about why the firm had chosen to invest $4 million a year into Mountain's pipes. It's a lot more than has been invested in recent years under Park's ownership, some 40 percent more, according to Carlyle. However, at that rate, it's still going to take a while to get the whole system shipshape.
Said Dove: "We expect this level of capital investment to continue. We work hard to balance capital investment decisions with the impact on water rates."
As you may remember, the water company first spends money on infrastructure, and then it approaches the PSC and requests a rate increase to cover the amount. So the cost of the improvements eventually will find its way into our water bills, and we customers will pay, regardless of the owner.
Currently, we might be paying too much, given a recent decision by the Montana Public Service Commission to mostly approve a rate increase request made by Mountain Water. From the story yesterday:
Only one commissioner, Travis Kavulla, dissented. Under family ownership in the past, Park Water saw interest rates of 9.22 percent and 10.12 percent, he said; under Carlyle, it has issued debt at a cost of 4.53 percent.

"This, of course, was the very benefit that was promised to consumers by the Carlyle acquisition," Kavulla wrote in his dissent.

Ratepayers, though, are not reaping the rewards … Rather … the PSC's order set water rates as though a higher amount of money is required to service debt than is actually the case.

"Now, the time has come to realize the benefit, and the commission isn't passing that onto you," said Monica Tranel, lawyer for the Montana Consumer Counsel. "The money is staying in the company coffers."
This post is getting long, but in case you're not on Twitter, I'm sharing a couple other things with you. One, I was a little on edge the other day playing the waiting game, and I amused myself with a couple FAKE headlines about this whole ordeal:
KeilaSzpallerFeb 27, 11:05am via HootSuite

1/2 FAKE headline: After buying the water company in Missoula, global investment firm The Carlyle Group makes bid to purchase entire city

KeilaSzpallerFeb 27, 11:06am via HootSuite

2/2 FAKE subhed: Rest of Montana backs sale of commie Missoula; adopts first-ever sales tax to contribute to effort
Now, back to the truth: As of Friday, the city of Missoula hadn't taken action against The Carlyle Group in court.
– Keila Szpaller